"Your laundry product is amazing! It completely removes the dog smell from the blankets. Everyone at the pet day care where I work appreciates the ease in which your products remove pet stains and odors. I highly recommend it to everyone." – Michael Sullivan
"I run a foster closet with three kids under two years old. Accidents happen often around my house, and Laundry ME cleans all the bedding in just a single load.  I wish I could have this stuff pumped into my home automatically. Laundry ME is truly amazing! – Cindy Bolton
"My dog couldn't hold it today, so she let loose in her crate.  I was almost ready to throw Emily's dog bed away, but I decided to give my colloidal-micelle cleaning agents a try.  I first pretreated the bed with my UrinePro Plus and then washed it in my Laundry ME (RugBath Pro).  As you can see, it turned out great in about a half an hour's time. " – David Berger, Founder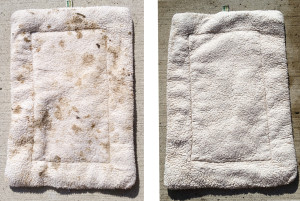 Laundry ME™ contains bio-renewable plant-based ingredients to produce a powerful microemulsion cleaning agent consisting of billions of nano sized micelles. It's extremely effective in removing hydrocarbon soils, fats, oils, greases, proteins and sugars. It's safe to use on all washable fabrics, leaves no residue, hypo-allergenic and leaves clothes soft without the use of fabric softeners. It removes stains and odors caused by sweat, urine, feces, vomit, blood, coffee, tea, wine, juice and more. It's perfect for washing stinky towels, sportswear, gear bags, clothing, bedding, slipcovers and pet products.
It contains no petroleum distillates, terpenes, glycol ethers, caustics, abrasive detergents or synthetics that may be left on clothing and absorbed by the skin. No ingredients are listed as carcinogenic by IARC, ACGIH, NTP, or OSHA.
Contents: Key ingredients such as surfactants, fatty acids and esters are derived from soy, corn and coconuts.
Best Practices For Using Laundry ME™
Shake Well Before Use
Concentrate: Use 1-2 oz per HE load and 2-4 oz per top load.
Ready-to-Use Retail Bottle: Use as directed below.
HE machines use 1/4 cup per load and top loaders use 1/2 cup.  Double quantity if needed for extra heavy duty loads.  As with all green products, using warm to hot water and a longer agitation cycle time are beneficial.  Eliminates laundry detergents, fabri softeners and anti-static sheets.  Removes washing machine odors.
For best results, pre treat stubborn stains with QClean Plus™
Always test in an inconspicuous area and check for color fastness.
Follow manufacturer's guidelines for the item being washed.
• Not tested on animals
• All natural ingredients
• Hypo-allergenic
• Bio-degradable
• No scent added
• No fumes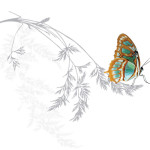 Push or Click to Call David Now