David, founder of Berger Sciences, develops the technology used in AA Natural Products' cleaners. Here's how David's eco-friendly cleaning agents impact his life and the world around him…
Removes Pet Urine From Rugs, Yet Safe For His Bass Pond
Here's a video David made of the pond's thriving microbiology
In order to make videos like this one, David rebuilds and sells microscopes from around the Ann Arbor and Detroit area — putting them to good use. Feel free to check out his eBay store to see his complete lineup of microscopes and accessories. David also designs and manufactures replacement parts for Nikon microscopes, including precision focus shafts, gears and light bulbs.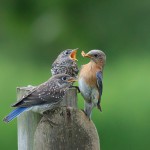 David is dedicated to protecting our planet. The founder of Berger Sciences and AA Natural Products, David holds a foundational love for the environment that is seen across his life and all its pursuits.
In complement to the work done with AA Natural Products, in his spare time, David loves being outdoors in nature, and wildlife photography. He is proud to have a dozen Eastern Bluebird houses on his property to help increase the number of birds in his local area.
Between nesting cycles, he cleans out the boxes with his bird-friendly microemulsion cleaning agents. Because of the antimicrobial attributes, the fledglings thrive in a disease-free environment. See Dave's video here of his fledglings feeding.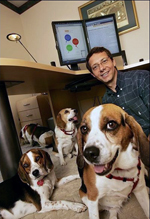 Dave also rescues animals whenever possible– especially Beagles. Over the past decade, he's helped countless cats and dogs find new forever homes. It's never a problem when one of his pets has an accident in the house, because he simply uses his non-toxic urine remover to clean it up.
In 2013, David helped a local Osprey rescue group with raising awareness. These once endangered birds are now making a comeback. The last thing David wants to do is dump toxic chemicals into the waterways, which may kill these wonderful raptors. In case you're interested, you may follow the Ospreys via GPS at Osprey Watch of Southeast Michigan.
David uses his non-toxic cleaning agents indoors and out — without any worries about negatively impacting the people, animals or environment around him. Dave always welcomes making new connections and can be contacted in a variety of ways. You may friend David on Facebook and don't forget to check out his 4,000+ nature and wildlife photos. Feel free to call him at 734-678-7941 or drop him a line at dave@a2.com.